After his first trip to Cambodia in 1998, Mr. Paul Dubrule was deeply impressed by the country and moved by its vulnerable situation. As mayor of Fontainebleau in France, his first step was to promote the twinning of his town with the city of Siem Reap.
With his strong hospitality background, determination and commitment, Mr. Dubrule decided to create l'École d'Hôtellerie et de Tourisme Paul Dubrule. As a great cycling enthusiast, he decided at 68 years old to face a real challenge by riding his bicycle all the way from Fontainebleau to Siem Reap. After an eight-month, 15,272 kilometers journey, over 3 million pedal strokes he finally arrived in Siem Reap in time for the grand opening of his school on October 24th, 2002.
EHT Paul Dubrule Team
Our faculty members are an inspiration to our students and are skilled at incorporating real situations into their classes. All of them engage with their students, giving them practical experience to use in the professional world. 
Our team includes industry professionals, established academic instructors and certified language teachers. We ensure the integral development of each member through regular internal and external training.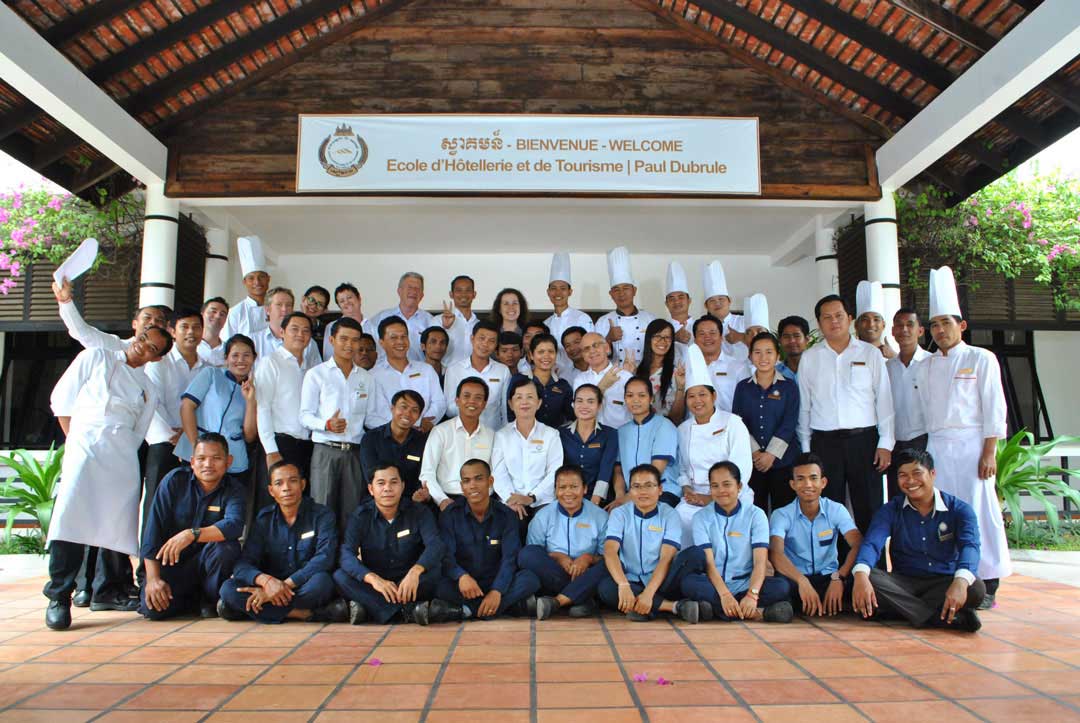 I couldn't be more proud of our teachers and colleagues, and the dedication they have shown over the years. Now more than ever, with the support of our many partners, we will continue to offer quality education and thus contributing to the thriving hospitality and tourism industry in Cambodia.
environmental responsibility
Embracing eco-initiatives to fight global warming and reach environmental sustainability.
Solar Panels
A solar panel rooftop located at the back of the school produces 10% of our kitchen's electrical power.
Plastic Free Initiative
EHT has reduced its plastic use by 90% and we aim for 95% in the upcoming years.
Waste Management
Cooking oil leftovers are transformed into bio-fuel and general waste is recycled by one of our local partners.
EHT Campus
Our campus offers a vibrant and dynamic environment that meet every student's needs.